JD Rigging has the following construction hoists and safety brakes available for hire. The datasheets may help you select which option best suits your needs, or you can contact us for help with that.
GEDA MultiLift P18 Personnel / Material Construction Hoist
The tried-and-tested know-how of the entire GEDA Multilift range was included in the development of the GEDA Multilift P18. The GEDA Multilift P18 consequently features a completely pre-installed base unit, consisting of the car, enclosure, space-saving flat cable bin and drive. This makes long installation times a thing of the past, and the mast elements can be set up on site immediately – directly from the car.
The GEDA Multilift P18 also has a footprint of only a few square metres. Three different platform variants with different load capacities allow the GEDA Multilift P18 to be flexibly adapted to the requirements on site. The enormous loading volume permits transport even of particularly heavy and bulky goods, such as plasterboard for interior construction work.
The GEDA Multilift P18 has a load capacity of 2000 kg or 20 passengers and a lifting speed of 32 m/min. The two-mast system ensures stable travelling up to a height of 100 m.
GEDA also scores with the innovative flat cable system. The flat cable conveyor ensures that the cable always remains taut in the flat cable bin, even in strong winds, avoiding the dreaded corkscrew effect
GEDA PH 650 2737 Personnel / Material Construction Hoist
Whether new building projects, façade work or extensive renovations – wherever heavy loads have to be transported to great heights, the GEDA PH 650 2737 passenger and material hoist is the ideal tool.
With frequency converter control, the GEDA PH 650 2737 achieves a lifting speed of 63 m/min and a lifting height of up to 400 m. It is approved for transporting 28 passengers or 2700 kg. The spacious 1.55 x 3.70 m platform allows even particularly bulky loads to be transported.
The standard controls for landing pre-selection, automatic mode or fully automatic mode can be selected individually for each model from the GEDA PH series. Different door systems in combination with the suitable requested electrically/mechanically locking landing level doors complete the profile of the PH range.
The GEDA PH 650 2737 is available as a single-car version or as a double-car version. Optional full size C-door and D-door available, see specification charts for more details.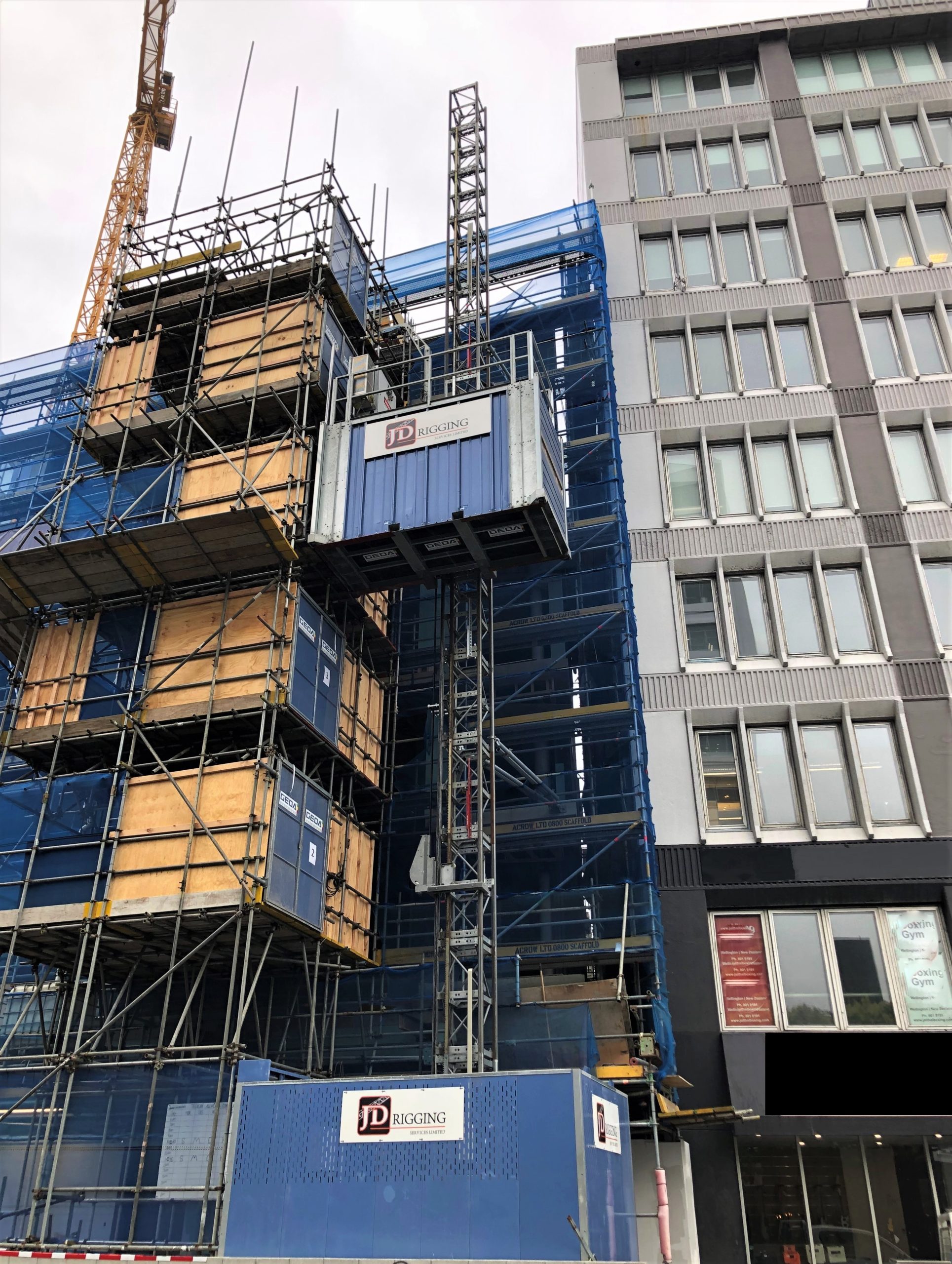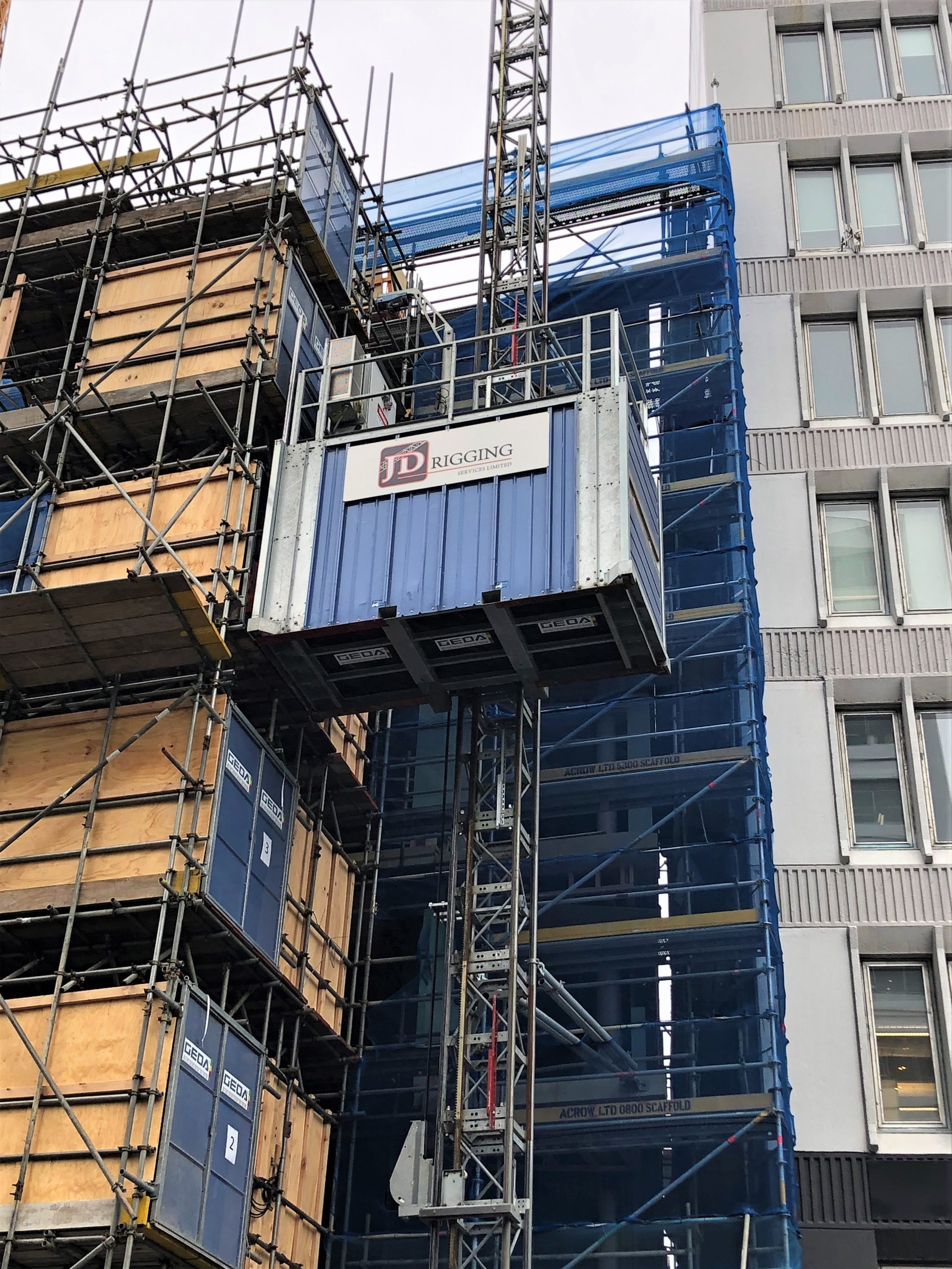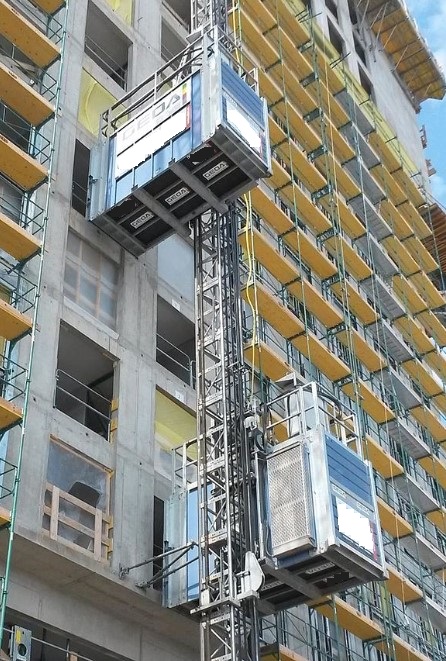 GEDA Single & Twin PH 650 3240 Personnel / Material Construction Hoist
The GEDA PH personnel and material hoist is now as a complete series available. Three standard versions have been developed up to now. All adjustable to desired specifications or conditions at construction site. Lifting height up to 400 m a lift speed of 40 m/ per minute and different car sizes are available. Both mast systems enable single and twin usage.
You can choose between three standard control systems: stop next landing, single automatic or fully automatic. Different door systems in combination with the electrically and mechanically interlocked landing level gates round off the profile of the new PH range. The well-known engineered safety features like the over speed safety brake and overload protection or limit switches at the upper and lower level are of course part of the standard equipment.
Of course the PH range is configurated according the new EN machinery directive 2006/42/EG or to national valid regulations.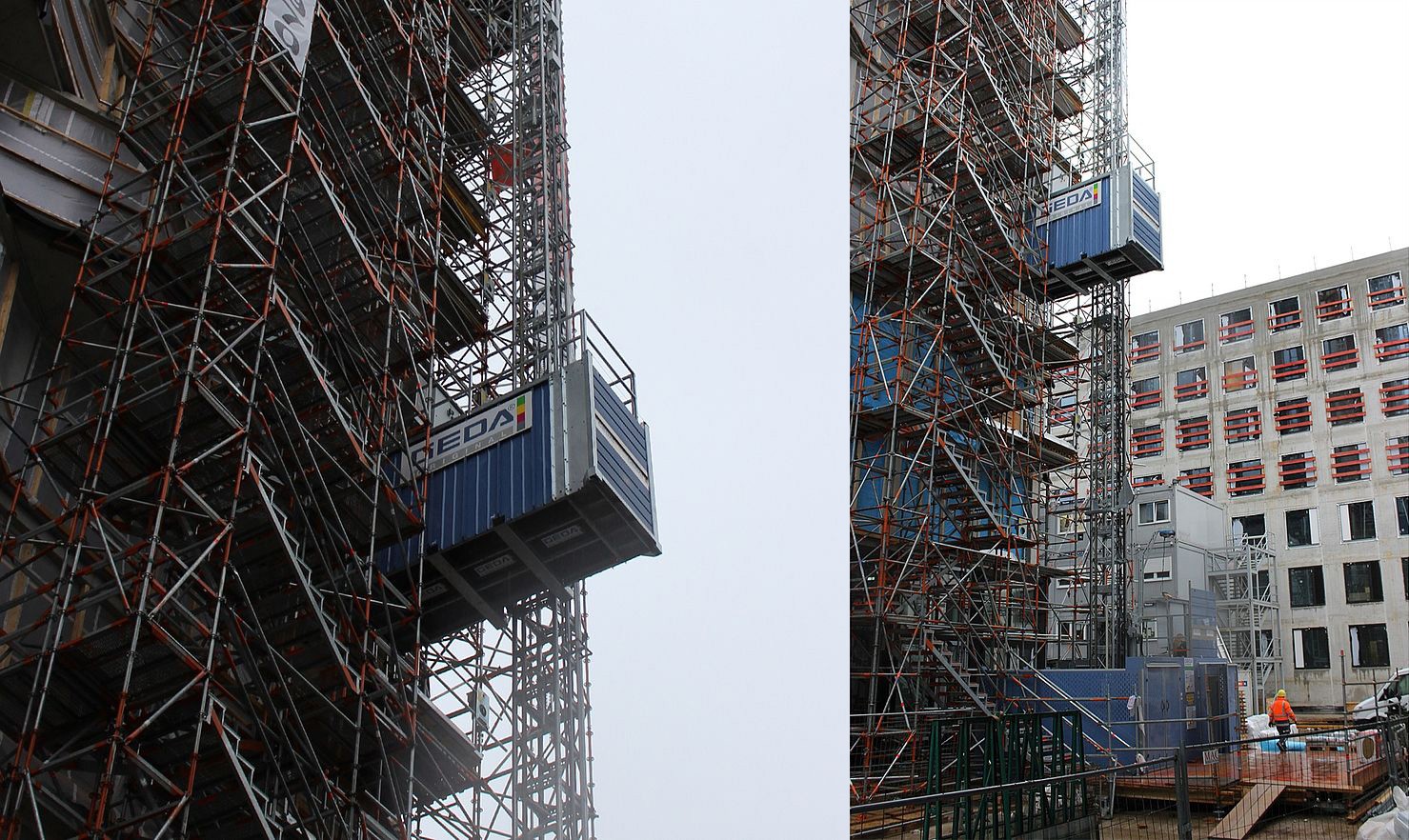 GEDA 3700Z/ZP

 – Personal / Material Construction Hoist
The tried-and-tested GEDA know-how has been incorporated into the development of the new device which completes the transport platform range.
With the launch of the new GEDA 3700 Z/ZP the company offers a device that meets the market demands for higher loads and larger platform sizes: Four different platform dimensions with a maximum load capacity of 3700 kg make the transport platform versatile and adaptable to any challenge on site.
Main standout features:
Large platform 5.00 x 2.90 m
Smooth start for precise landing stop
Load indication in kg and monitoring of the load distribution
Fully compatible with the GEDA system
Four different platform dimensions available
Load capacity: 3700 kg (depends on platform dimension)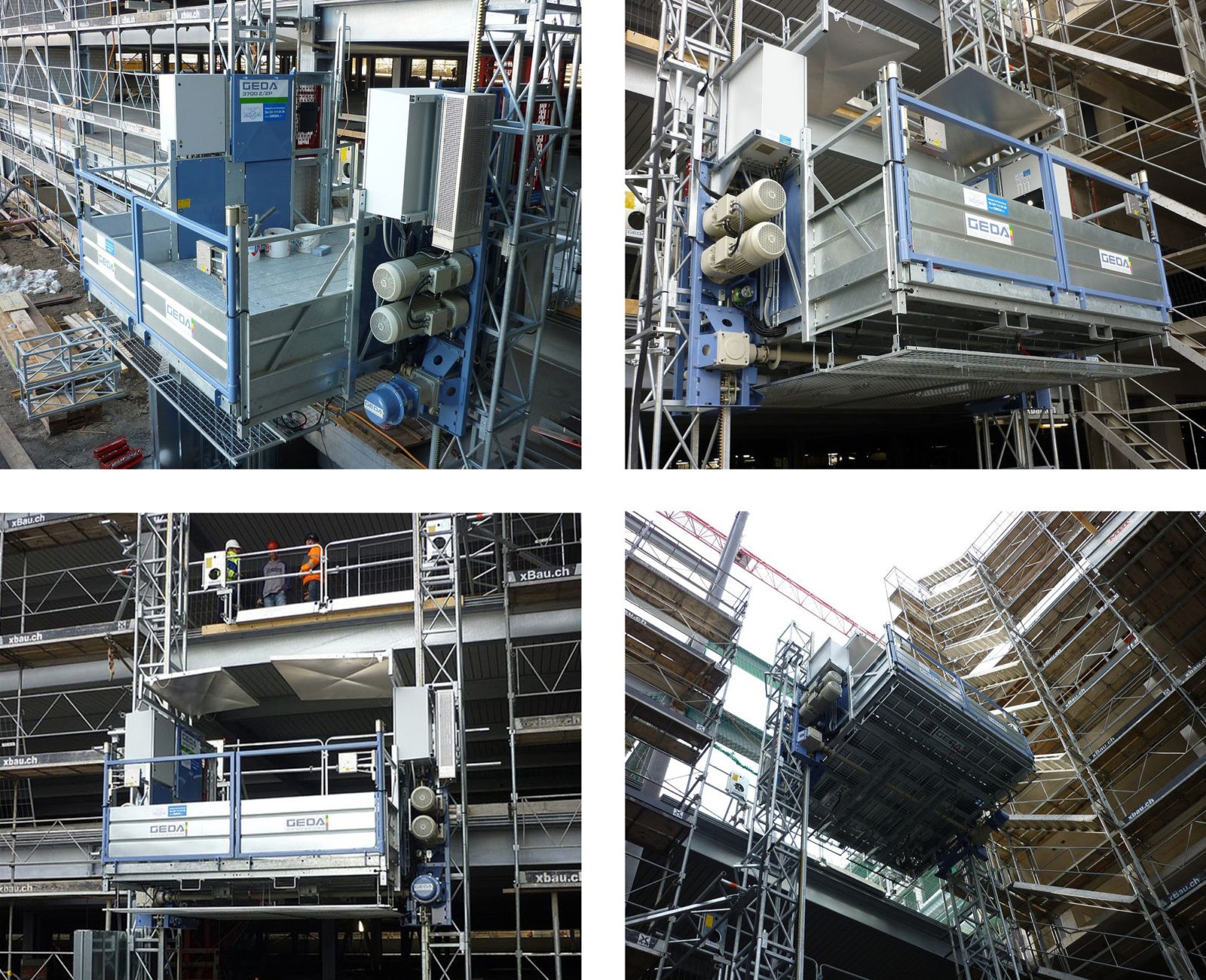 GEDA 1500 Z/ZP – Personal / Material Construction Hoist
The GEDA 1500 Z/ZP has two separate control systems and can be used either as a material hoist only or as a transport platform for passengers and materials. The transport platform control with a speed of 12 m/min is activated for transporting passengers and materials. For transporting construction materials only, the device is switched to the material hoist mode with a lifting speed of 24 m/min.
One device, numerous possibilities: the double-mast GEDA 1500 Z/ZP transport platform ideally adapts to virtually any conditions on site thanks to the convenient modular system with 14 different platform versions and different load capacities. The large loading platform variants of the GEDA 1500 Z/ZP offer plenty of space – even for transporting particularly heavy and bulky materials.
Despite high load capacities of up to 2000 kg, the proven double mast system ensures a stable and smooth travelling motion
Main standout features:
Smooth start for precise landing stop
Load indication in kg and monitoring of the load distribution
Fully compatible with the GEDA system
Different platform dimensions available
Load capacity: 2000 kg (depends on platform dimension)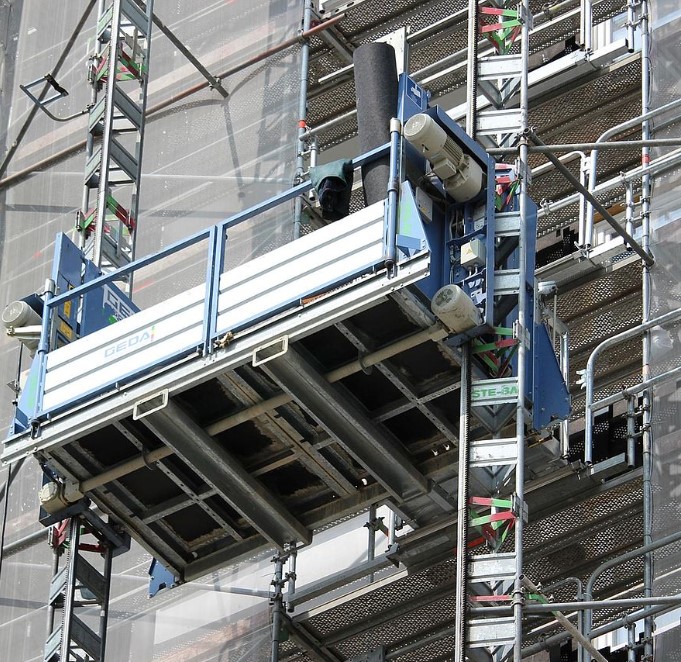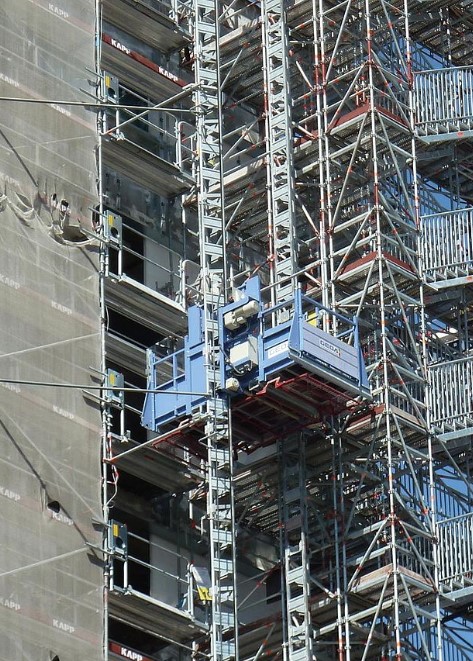 YHX Range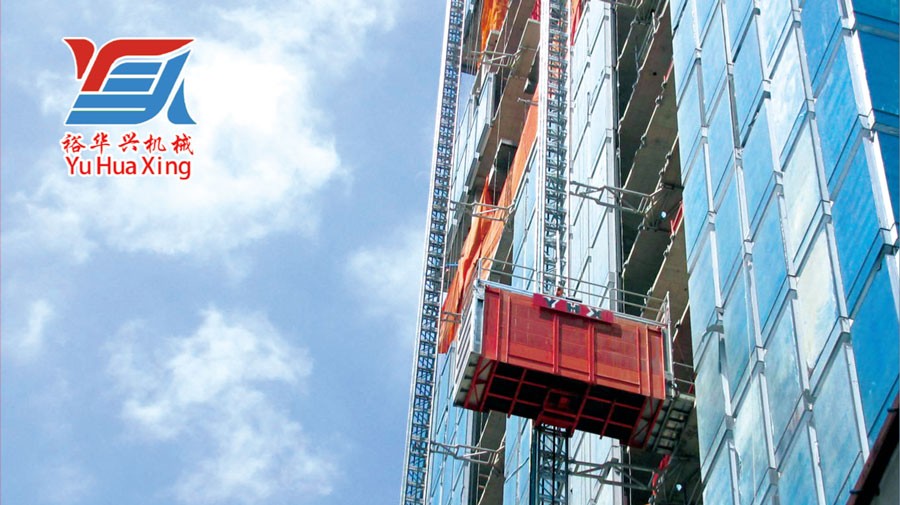 YHX YSC650 Hoist

YHX YSC450 series builder hoist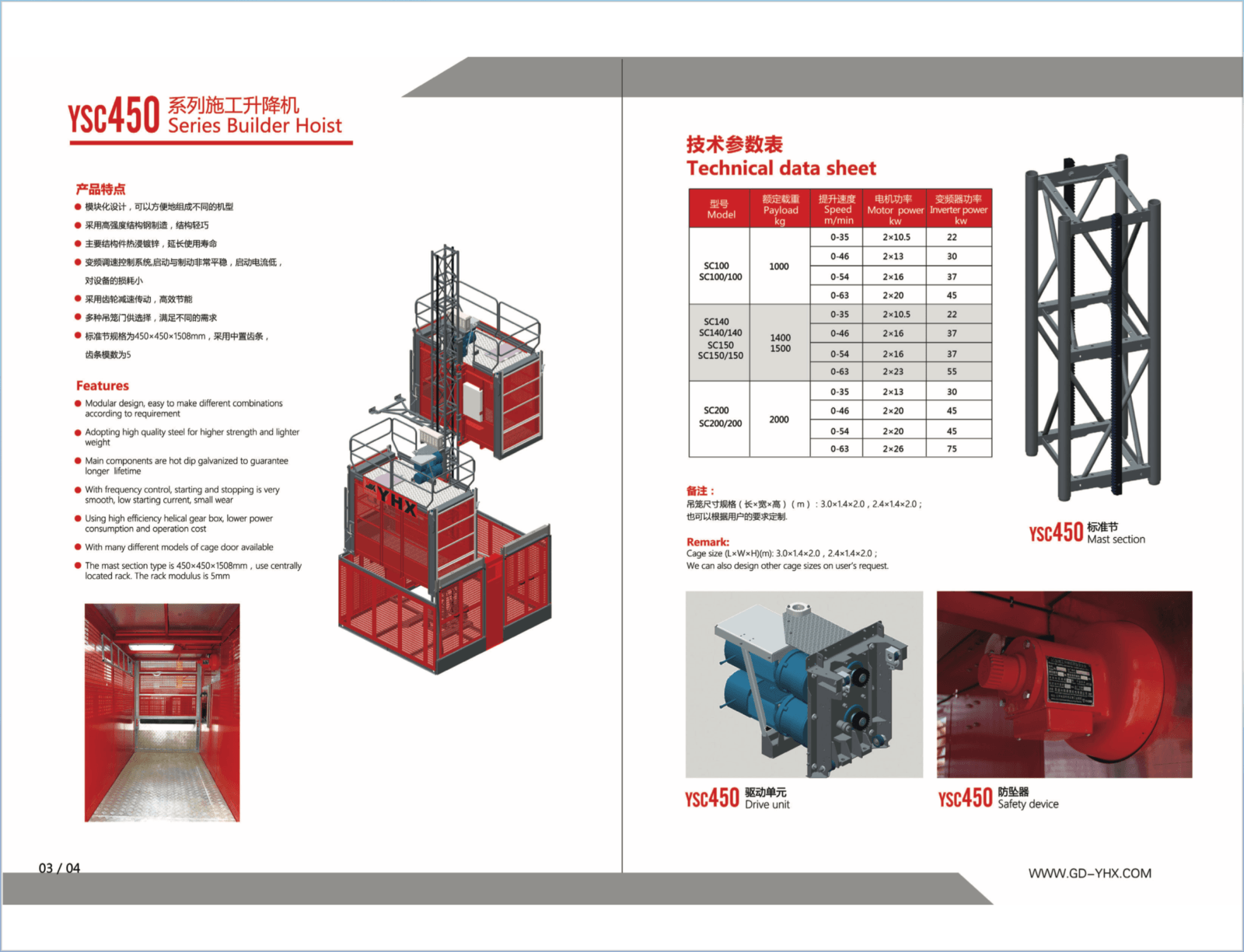 YHX YTPE 650 twin mast 5m platform
YHX Optional Parts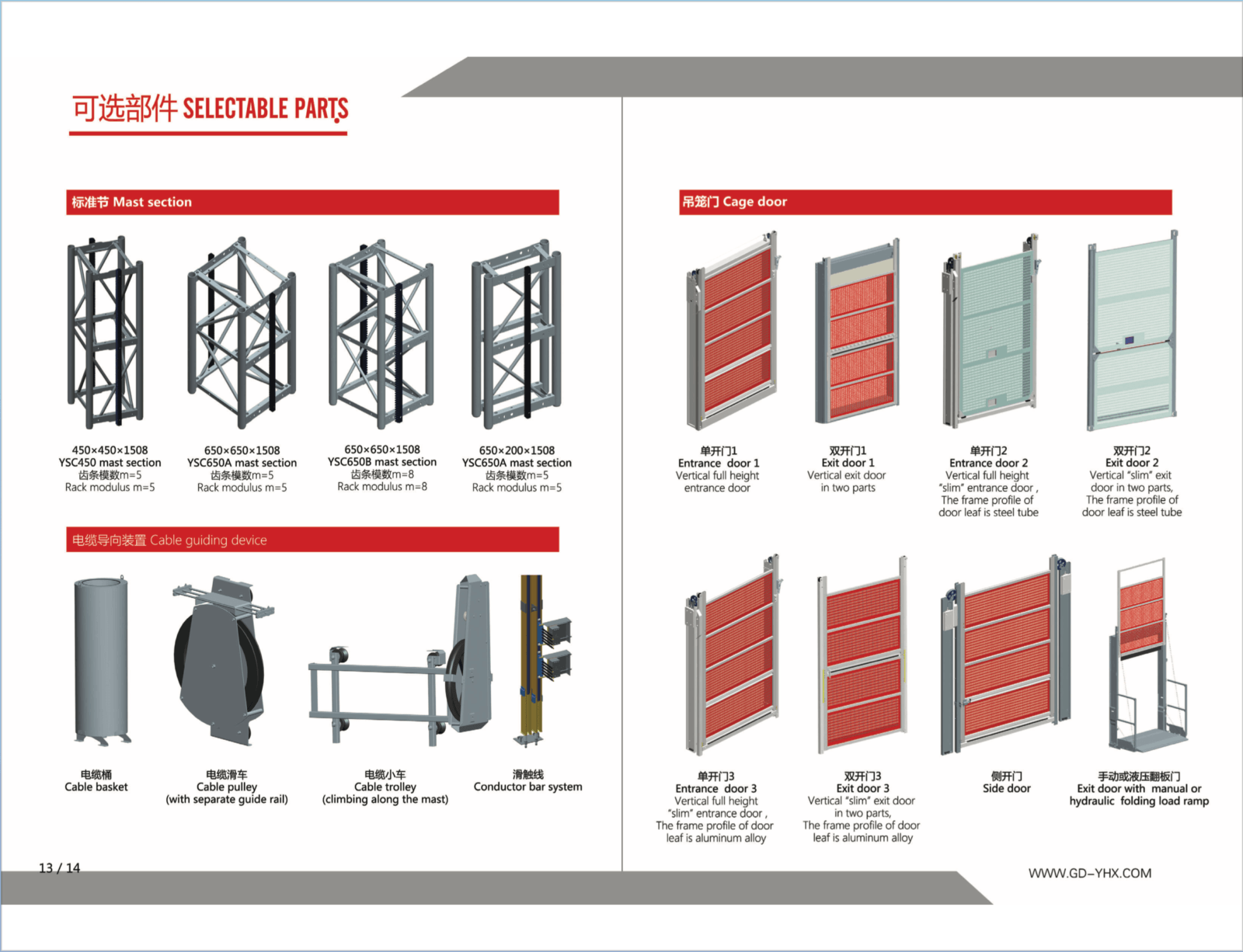 GMEC hoists and parts
YHX Working Platforms
Skymax 500E Traction Hoist
Corrupti quos dolores et quas molestias excepturi sint occaecati cupiditate non provident, similique sunt in culpa qui officia deserunt mollitia animi, id est laborum et dolorum fuga. Et harum quidem rerum facilis est et expedita distinctio.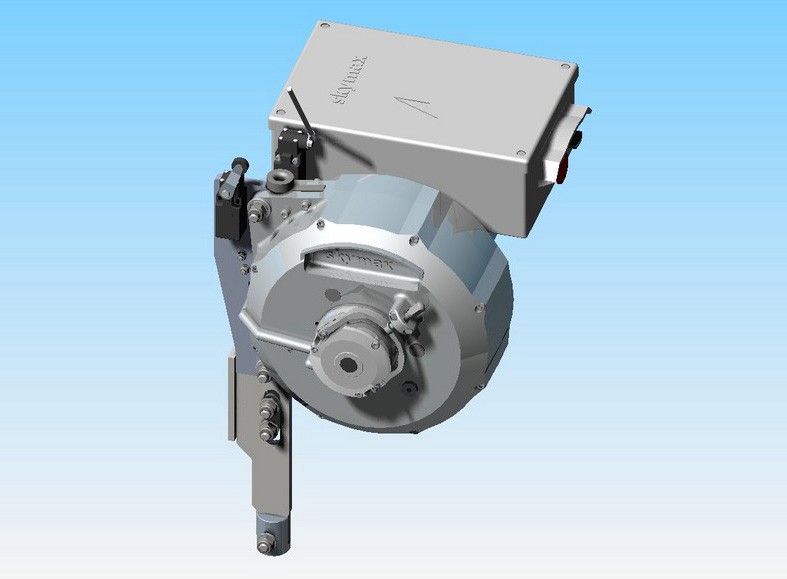 Skymax OCTO 800 3E Traction Hoist
The Skyman Octo Hoist is a man-rated, poratable, traction principle hoist, CE Approved. The hoist is a self-reeving, electrical or pneumatically operated lifting unit. It climbs up and down a primary steel wire rope carrying personnel and materials to the desired work stations.
Product Features:
Hiost mounted control
Primary Brake
Limit Switches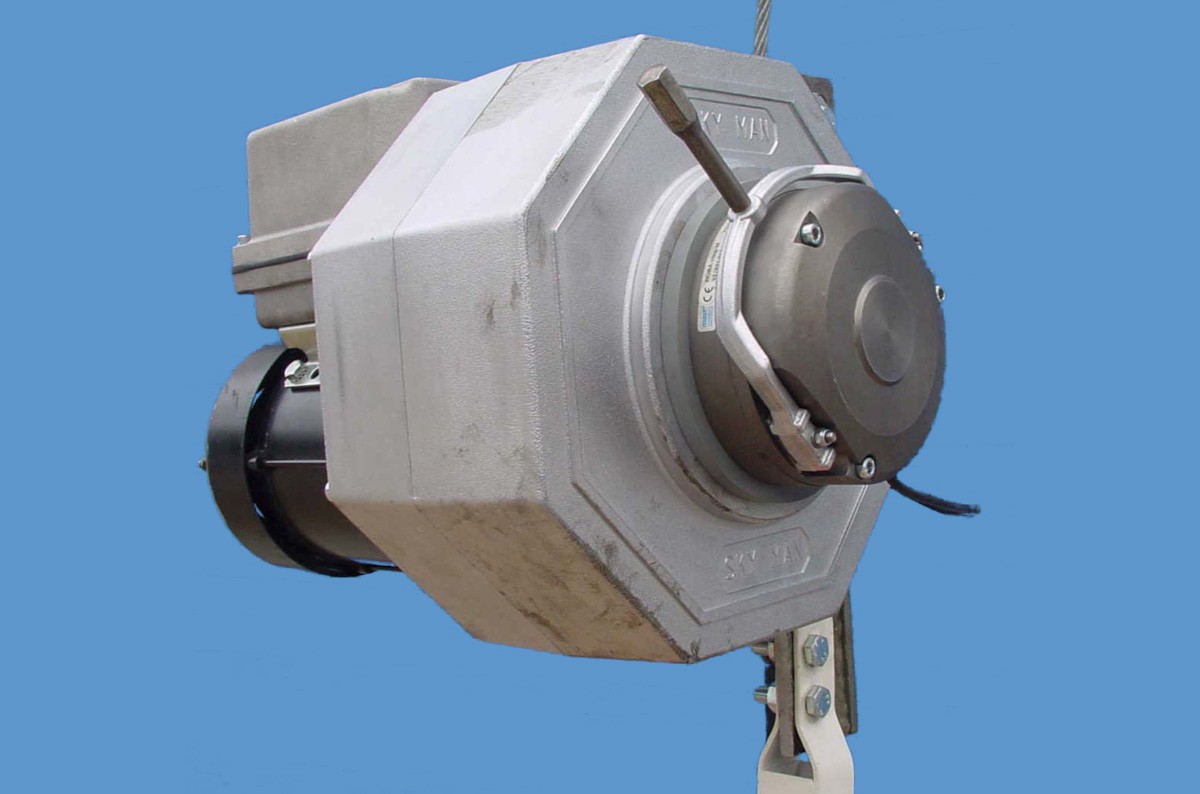 Skymax Type III Safety Brake
This unit is a precision engineered safety device which is normally used in conjunction with each hoist unit. It can be used on the primary or safety steel wire rope. For most market areas, it is used on the safety steel wire rope. It can be attached directly onto the hoist unit or the platform stirrup.
The safety brake, independent of the drive system, actuates during Overspeed conditions only.
Its primary function is to halt the descent of a hoist/platform. As the wire rope passes through, it senses the descent speed by means of a centrifugal mechanism. If, as the Safety Brake is traveling down the wire rope, the factory pre-set speed is exceeded, the Safety Brake will lock onto the steel wire rope thereby halting the hoist/platform and support all the load. The Safety Brake has a Manual Trip Lever for manual activation or functional checking.
It also has a Reset Handle.
An additional safety feature which senses the horizontal inclination of the platform can be incorporated on request. When the platform reaches an inclination more than 15 à 18%, the safety brake will trip automatically and therefore the jaws will grab onto the steel wire rope.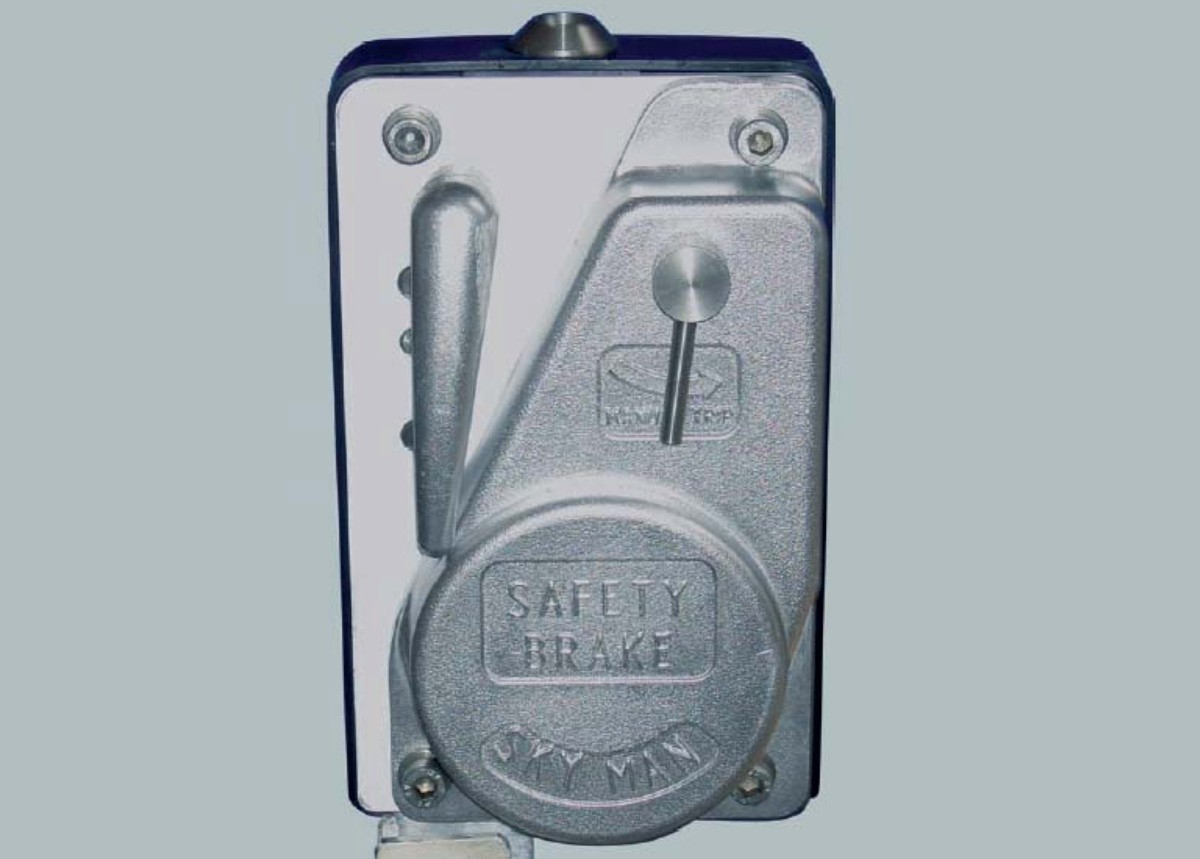 Our trusted brands
We have a handful of GEDA construction hoists available to hire, and as the New Zealand agent we can consult and assist you in the purchase of a range of GEDA's high quality lift solutions too.
We are also the New Zealand agent and service centre of Skyman's range of traction hoist motors and over-speed safety brakes.